Jackery debuts all in one battery with Quick Charge 3.0, AC outlet and solar charger
There was a time when heading to the great outdoors guaranteed a break from technology, but, according to a recent study, today's travelers fail to switch off and instead pack at least five gadgets.
For people who need power on the move to take pictures, update social profiles, play music, light up the night, fly drones or straighten their hair, Jackery today launches the PowerBar on Indiegogo.
PowerBar is the ultimate all in one charging companion, it can power up to four devices simultaneously, super fast, super safe.
Works for a large range of devices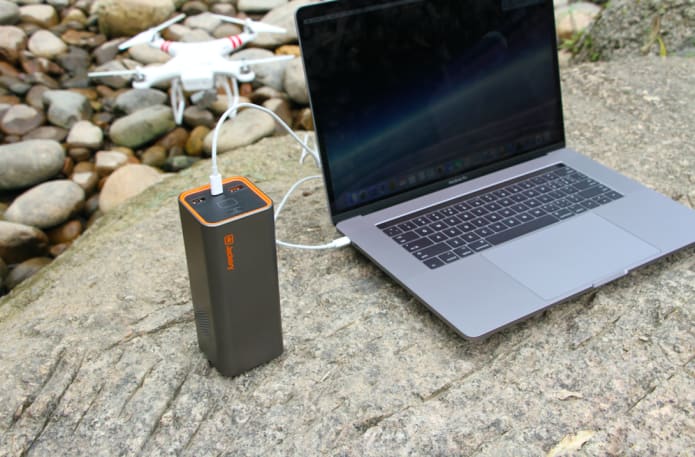 With in-built AC, USB-C and Qualcomm Quick Charge 3.0 outlets the power bank can charge a host of devices from smartphones and laptops to drones, projectors and mini fridges. The high power UL certified 18650 lithium battery can recharge a Apple MacBook, 1.5 times; Microsoft Surface pro 4, 1.6 times; iPhone and Android devices up to eight times; and a GoPro, eight to 10 times.
Whether traveling for work, on the beach, hiking the wilderness or enjoying a festival, keep multiple devices powered up with Qualcomm's Quick Charge 3.0 outlet, which charges compatible gadgets up to 85% faster.
Airline friendly
At just 1.5 lbs the PowerBar is the smallest and lightest battery pack in its class and is safe for airline use as the 20800mAh / 77Wh capacity falls within Federal Aviation Administration's safety limit of 100Wh.
Made from tough fireproof thermoplastic it is built to withstand more than daily wear and tear.
Efficient and safe



With its smart battery management system the PowerBar adapts to optimal voltage levels for each device when powering, and continuously manages inflow and outflow to ensure that both the device and PowerBar operate in the most efficient way.
AC or solar power recharge
Easily recharge in six hours by plugging into a wall outlet or from the car. If off the grid for days at a time then connect the optional solar panel and recharge wherever there is daylight.
Zhongwei Sun, Jackery's CEO, explains: "We want to give everyone the ability to charge all their devices without the need for a wall outlet. The PowerBar has passed strict quality control tests and is the ultimate power-up companion for work or travel."
The Indiegogo crowdfunding campaign kicks off on 29th August with a target of $50,000 to put the device into mass production with an SRP of $199.
Specifications
Battery
Cell Dimension: 18650
Capacity: 20800/77Wh
Lifecycles: 100 times
AC Outlet: 110V/85W (100W max)
USB Outlet: 5V/4.8A (total)
Type-C: 5V/3A (single)
USB: QC3.0  3.6V-6V/3A, 6V-9V/2A, 9V-12V/1.5A (single)
USB: 5V/2.4A
Product Dimension: 6.5 x 2.5 x 2.5 in
Product Weight: 1.5lbs
1
Source :
Shashank is an experienced technology blogger. He studies management but his heart lies in technology & Gadgets. He is basically Creative in Nature and his one of favorite thing is doing Shopping & Capturing Nature closely whenever he gets the free time